Imagine a society where farmers can care for their land and produce abundant crops because they can access strong financial resources to support their endeavours. Guess what, in any case? That is a real world!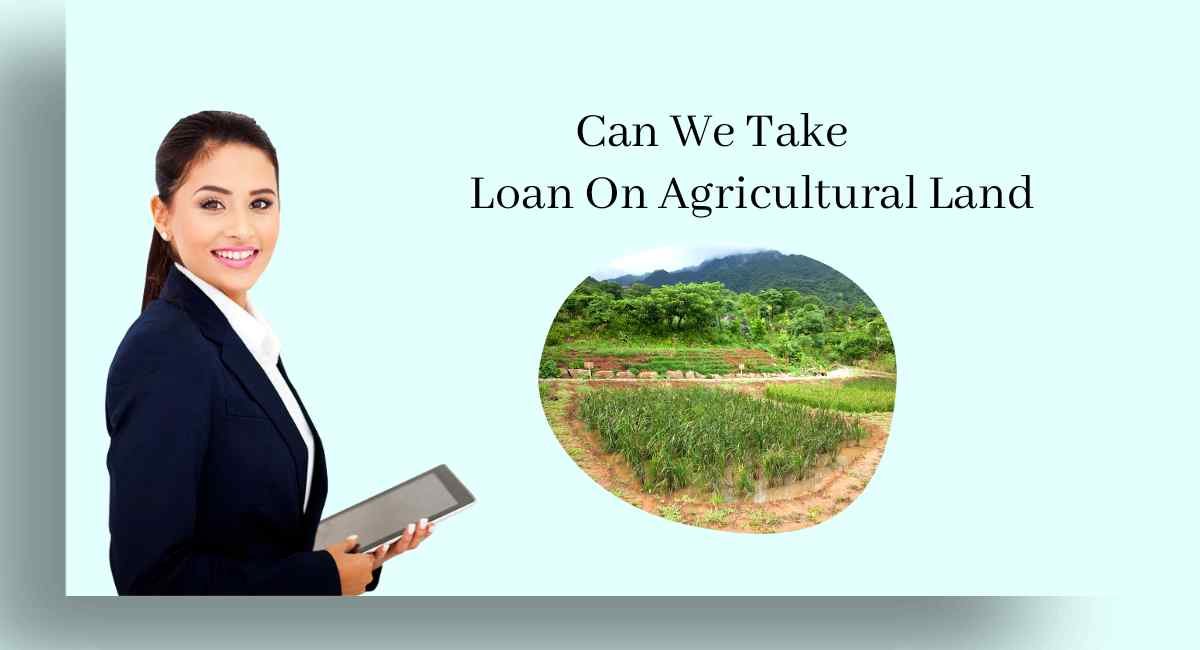 This article will captivate you as it reveals the hidden details of agricultural loan programmes that can help you realise your dream of becoming an agriculturalist.
Prepare to discover which banks provide long-term loans tailored to the agricultural industry and the highest amounts they are willing to lend. It's time for farmers everywhere to use finance to their advantage as they strive for expansion!
Can We Take Loan On Agricultural Land
Yes, you can take a loan on agricultural land in India by pledging it as collateral. Here are some key points to consider:
Clear Titles:

 To be eligible for a Loan Against Agricultural Land, you must have clear and undisputed titles to the land you intend to pledge as collateral. Lenders typically require proof of ownership and a clear title to the agricultural land.

Residence Stability

: Some lenders may prefer borrowers to have a certain level of residence stability, often around two years, in the area where the land is located. This requirement is meant to establish your connection to the land and community.

Loan Amount:

 The loan amount you can obtain is usually determined based on the size and value of the agricultural land you are pledging as collateral. The valuation of the land will play a significant role in determining the loan amount.

Interest Rates:

 Interest rates for loans against agricultural land may vary depending on the lender and the loan terms. To receive the greatest deal, examining the terms and interest rates various banks and financial institutions offer is critical.

Repayment Terms:

 Discuss the repayment terms with the lender. Repayment terms for loans against agricultural land are often flexible and can be tailored to match your agricultural cycles.

Loan Purpose:

 Loans against agricultural land can be used for various purposes related to agriculture, such as purchasing agricultural equipment, investing in crops, or meeting other agricultural expenses.

Loan Tenure:

 The tenure of the loan can vary from lender to lender. It's important to choose a tenure that aligns with your repayment capacity.

Documentation:

 You must provide various documents, including proof of ownership of the agricultural land, identity proof, address proof, income documents, and any other documents required by the lender.

Loan Approval:

 The lender will assess your application, including the agricultural land's value and repayment capacity, before approving the loan.

Collateral Release:

 After you have repaid the loan as per the agreed-upon terms, the lender will release the collateral, which is the agricultural land title, back to you.
Finding the loan offer that best fits your interests and financial circumstances requires careful investigation and comparison shopping across several banks and financial organisations.
 Additionally, ensure you meet all eligibility criteria and have the documentation before applying for a loan against agricultural land.
What Is the Agricultural Loan Scheme
An agricultural loan scheme is a specialised financial program or offering designed to provide financial support to individuals, typically farmers, engaged in agricultural activities. These schemes are structured to cater to the unique needs and challenges those involved in agriculture and related sectors face. Here are the key aspects of agricultural loan schemes:
1. Purpose: Agricultural loan schemes are intended to finance various agricultural operations, including crop cultivation, livestock rearing, purchase of agricultural equipment, land acquisition, and other farming-related expenses. They are essential for meeting the capital requirements of farmers throughout the agricultural cycle.
2. Types of Loans: Agricultural loan schemes encompass a range of loan types to address different agricultural needs. Some common agricultural loans include crop loans, term loans, machinery loans, and gold loans for agriculture. Each type serves a specific purpose within the farming ecosystem.
3. Interest Rates: The interest rates for agricultural loans can vary depending on the lender, the type of loan, and government policies. These rates are often competitive and may be subsidised by the government to make credit more accessible to farmers.
4. Eligibility: To be eligible for agricultural loans, borrowers must typically fulfil specific eligibility criteria. These criteria may include age, ownership of agricultural land, engagement in farming or related activities, and adherence to Know Your Customer (KYC) guidelines.
5. Repayment Terms: Agricultural loan schemes usually offer flexible repayment terms that align with the farming cycle. This flexibility allows farmers to repay their loans when they generate income from agricultural activities, such as harvesting and selling crops.
6. Government Initiatives: Government initiatives support or subsidise Many agricultural loan schemes promoting agricultural growth and financial inclusion in rural areas. These initiatives may provide farmers interest rate concessions, loan guarantees, or other benefits.
7. Financial Institutions: Agricultural loans are provided by various financial institutions, including commercial banks, cooperative banks, regional rural banks, and government-backed agencies like NABARD (National Bank for Agriculture and Rural Development).
8. Documentation: Borrowers must submit specific documentation, including application forms, proof of land ownership, identity proof, and address proof, to avail themselves of agricultural loans.
9. Benefits: Agricultural loan schemes boost agricultural productivity, improve rural livelihoods, and ensure food security. They empower farmers to invest in modern farming practices, purchase quality seeds and fertiliser fertilisers, and acquire machinery, ultimately increasing their agricultural output.
10. Economic Impact: The availability of agricultural credit is vital for the growth of the agricultural sector, as it helps stabilise farmers' incomes, reduce dependence on informal moneylenders, and contribute to the overall economic development of rural areas.
In summary, agricultural loan schemes are a cornerstone of agricultural development and rural financial inclusion. They provide essential financial support to farmers and agricultural entrepreneurs to sustain and expand their agricultural activities. These schemes are often tailored to meet the specific needs and challenges of the agricultural sector in a given region or country.
Agriculture Loan Maximum Amount
The maximum amount you can borrow through an agricultural loan can vary from one bank or financial institution to another. Here are some examples from different banks and institutions:
Union Bank of India: The maximum agricultural loan amount is subject to 5 times the annual income (current-predevelopment state) of the farmer, including allied activities, or 50% of the value of the land mortgaged, whichever is lower, subject to a maximum of Rs. 20 lakhs.
Canara Bank: Canara Bank offers collateral-free agricultural loans with a maximum limit of up to 15% of the loan amount or Rs. Fifty lakhs, whichever is lower, subject to other conditions.
NABARD: Banks may waive security/margin requirements for agricultural loans up to Rs. 1.60 lakhs.
Bank of Baroda: The Agri Gold Loan from Bank of Baroda offers a maximum loan amount of up to Rs. 50.00 lakhs per customer.
Federal Bank: The Federal Green Plus Loan offers a minimum loan of Rs. 3 lakhs and a maximum loan of Rs. 10 lakhs. The loan amount will be 50% of the value of collateral security or 5 times the previous year's net income, whichever is lower.
Please note that these are examples, and the maximum loan amount you can get may vary based on your specific financial situation, the type of loan, and the lending institution's policies. Before you apply, you should get the most correct and up-to-date information from the bank about how much of an agricultural loan they will give you.
Which Bank Gives Long-Term Loan To Agriculture
NABARD (National Bank for Agriculture and Rural Development) is a prominent institution in India that provides long-term loans to the agricultural sector. Here are some details regarding NABARD's long-term agricultural loans:
Loan Period: NABARD offers long-term loans with a maximum repayment period of up to 15 years. This extended repayment period provides flexibility and support to farmers and agricultural businesses for various purposes, such as land purchase, farm development, and agricultural infrastructure projects.
Refinance Window: NABARD is a refinancing agency for banks and financial institutions. It provides refinance facilities to these institutions, which, in turn, lend to farmers and agricultural enterprises. NABARD plays a crucial role in channelling funds from financial institutions to the agricultural sector, ensuring that the sector has access to affordable long-term credit.
Farmers and businesses interested in long-term agricultural loans should approach their respective banks or financial institutions eligible for NABARD's refinance schemes. These loans can be used to purchase agricultural land, set up agricultural infrastructure, or make long-term investments in farming and related activities.
Please note that these loans' specific terms and conditions may vary among different banks and financial institutions, so it's advisable to contact your local bank or financial institution for detailed information and application procedures.
Which Bank Gives Agriculture Loan and Interest Rate
Many banks in India provide agriculture loans to farmers and individuals engaged in agricultural activities. Some of the prominent banks that offer agriculture loans include:
Central Bank of India (Cent Kisan Tatkal Scheme)
Interest Rate: 8.70% p.a. onwards
IndusInd Bank (Crop Loan)
Interest Rate: 10.15% – 14.75% p.a.

Processing Fee: Up to 1% plus service tax
HDFC Bank (Retail Agri Loans)
Interest Rate: 9.10% – 20.00% p.a.

Processing Fee: 2% to 4% or Rs. 2,500
Federal Bank (Federal Green Plus Loan Scheme)
Interest Rate: 11.60% p.a.

Processing Fee: As per the lender's terms and conditions
Union Bank of India (Land Purchase Loan)
Interest Rate: 8.70% p.a. onwards

Processing Fee: Up to Rs. 25,000 – Nil
Karur Vysya Bank (Green Harvester)
Interest Rate: 10.30% p.a.

Processing Fee: As per the lender's terms and conditions
Canara Bank (Kisan Suvidha Scheme)
Interest Rate: 10.10% p.a.

Processing Fee: As per the lender's terms and conditions
Andhra Bank (AB Kisan Rakshak)
Interest Rate: 13.00% p.a.

Processing Fee: As per the lender's terms and conditions
UCO Bank (UCO Kisan Bhoomi Vridhi)
Interest Rate: 3.10% – 3.50% p.a.

Processing Fee: Nil up to Rs. 3 lakh
Please note that interest rates and processing fees can vary based on the specific agricultural loan product, loan amount, and other factors. It's advisable to contact the respective banks or financial institutions directly for the most up-to-date and detailed information on their agriculture loan offerings and associated fees.
Additionally, borrowers should consider factors like eligibility criteria and loan tenure when choosing the right loan product for their agricultural needs.
How To Apply for Agriculture Loan
Applying for an agricultural loan in India typically involves several steps. Here's a general overview of the process:
Research and Choose a Lender:
Start by researching banks and financial institutions that offer agricultural loans.
To select the most suitable lender for one's specific requirements, it is advisable to thoroughly compare interest rates, loan terms, and eligibility criteria.
Visit the Nearest Branch:
Once you've selected a lender, visit the nearest branch of that bank or financial institution.
Meet with a Loan Officer:
Make an appointment to speak with a bank loan officer. Explain your agricultural financing needs and discuss the available loan options.
Complete the Loan Application:
Obtain the agriculture loan application form from the bank. Fill it out accurately and completely.

Ensure that you provide all required documents along with the application. These documents typically include:

KYC (Know Your Customer) documents such as Aadhar cards, PAN card, Voter IDs, passports, etc.

Land records to establish ownership of the agricultural land.

Income and expense statements.

Agricultural project report, if applicable.

Other documents specified by the bank.
Collateral and Guarantor:
If the loan requires collateral, be prepared to provide details about the collateral you offer. This could include land, gold, or other assets.

Some loans may also require a guarantor, so ensure you have someone willing to fulfil this role.
Credit Assessment:
The bank will use the information and documents you give to determine your creditworthiness.

This includes evaluating your income, existing debts, and repayment capacity.
Loan Sanction:
The bank will issue a sanction letter if your loan application is approved. This document outlines the loan amount, interest rate, and terms and conditions.
Loan Disbursement:
Once you accept the terms outlined in the sanction letter, the bank will disburse the loan amount directly to your account or in the form of a demand draft, as per your preference.
Loan Repayment:
Make sure to adhere to the repayment schedule outlined in the loan agreement. Timely repayments will help you maintain a good credit history.
Monitoring and Compliance:
Be prepared for periodic visits from the bank's representatives to monitor the progress of your agricultural activities.
It's important to note that the specific process and requirements may vary from one bank to another and can depend on the agricultural loan you are applying for. Additionally, government schemes and subsidies may be available to farmers, so check with your bank and relevant government agencies for additional financial assistance and information on agricultural loan schemes.
Conclusion Points

 
In conclusion, several bank-offered agricultural loan programmes enable borrowers to take out loans against agricultural property. These programmes give farmers and other agriculturally oriented people financial support. The land's valuation, the loan's intended use, and the borrower's creditworthiness are some variables that determine the maximum amount of an agriculture loan.
Several banks, including Punjab National Bank, NABARD, and State Bank of India, provide long-term loans especially intended for the agricultural sector.
If you're considering getting an agribusiness loan, do your homework and evaluate your alternatives carefully to determine which bank would best meet your needs and objectives. Utilise these agricultural loan programmes to get the funding you need to increase your farming operations or expand your agricultural endeavours.
FAQs 
1. Can we borrow money against our farmland? 
You can borrow money against your agricultural land for several uses, including expanding your agricultural enterprise or buying farming equipment or irrigation systems.
2. Describe the Agricultural Loan Programme.
Financial institutions offer farmers the Agricultural Loan Scheme, a specialised specialised lending programme, to facilitate their access to finance and assist their agricultural endeavours.
3. What is the highest loan amount available for agriculture?
An agriculture loan's maximum amount varies based on the bank and the borrower's needs. It is advisable to inquire about maximum loan limitations from various institutions.
4. Which bank provides agriculture with long-term loans?
Many banks, including regional rural banks, nationalised banks, and cooperative banks, provide long-term loans tailored for agriculture. When selecting a bank, it is advisable to research and compare terms and conditions.
5. What qualifications are needed to be eligible for a loan for agriculture?
While specific banks may have different requirements, most generally involve age, debt-to-income ratio, credit history, property ownership or leasing agreement, and stable income from agricultural pursuits.
6. What paperwork is needed to apply for a loan for agriculture?
Documents such as lease agreements or land ownership records, identification and address verification, income certificates or tax returns about agricultural activities, bank statements, and collateral information, if relevant, are frequently sought.
7. Can I still acquire an agriculture loan if I am a tenant farmer without land ownership?
Some banks have programmes designed specifically for tenant farmers with a valid lease but no land ownership. These programmes offer financial support for activities related to farming.
8. Is collateral required to receive an agribusiness loan?
The type of collateral needed will depend on each case's loan amount and specifics. Certain loans can need collateral in the form of real estate or other assets, while others might be given out through government-backed programmes that don't.